Hari OM!
Welcome to the study and sādhanā of Bhagavad Gītā Chapter 4 - jñānakarmasannyāsayoga!
In this chapter, Lord Krishna explains to Arjuna the attributes of one who has realized the supreme knowledge of Brahmavidya and how through various paths of selfless actions, one can get a glimpse of this knowledge.
In the theme verse that is very familiar to all of us, Lord Krishna tells Arjuna that Brahman is the substratum of all actions, all the instruments used to perform actions, all the wealth that one has gained through one's actions, all the actors, and verily the goal sought after through selfless actions. Such actions, performed under the guidance of a spiritual Guru, will cleanse one of his worldly sins and attain oneness with the Brahman.
This is a profound message to be pondered upon! Let us strive to remember this nature of Brahman in every waking moment that we act in this world!
Chapter 4 Lyrics: Sanskrit English Sanskrit & English side-by-side
Instruction Videos:
Reference Documents:
Gītā Chanting Yajna Events:
Gītā Chanting Yajna 2024 Regionals competitions shall be held in the various New Jersey Chinmaya centers. This event is open to all. Please refer to the flyer below for verse assignment for grades and the list of participating centers.
April 20, 2024 - NJ Regionals @Vrindavan (open to All)

May 18, 2024 - NJ State Finals @Vrindavan (Open to Balavihar kids from Vrindavan & Ramdoot ONLY)

Selected winners from the NJ State Finals will be invited to participate in the Chinmaya Gītā Fest 2024 to be held on July 6th & 7th, 2024 in Chicago.

NJ Gītā Chanting Yajna Flyer: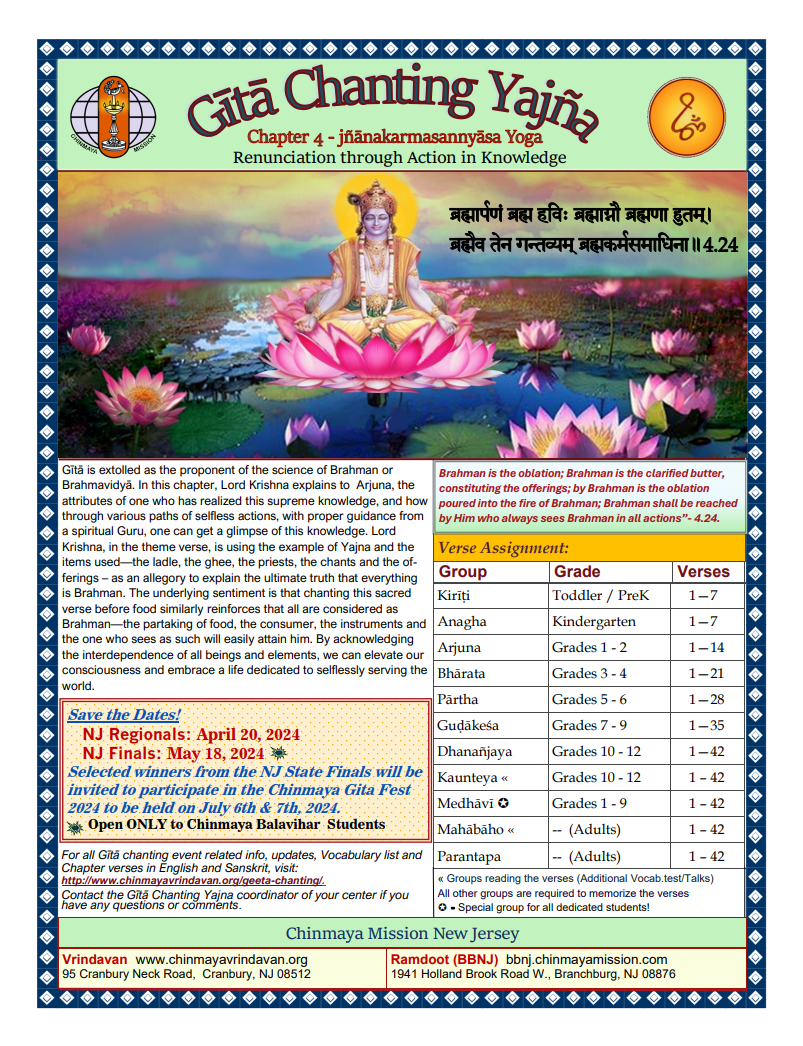 Support:
If you have any questions or comments please email This email address is being protected from spambots. You need JavaScript enabled to view it. , or reach out to the Gītā Chanting Yajna Co-ordinator of the nearest Chinmaya Center.
For Nation-wide Gītā Chanting program and the list of all participating Chinmaya Centers and Co-ordinators, please visit Chinmaya Mission West.