Hari OM!
Welcome to Chinmaya Mission TriState Center's Bhagavad Geeta Study. Chapter 2 of Bhagavad Geeta shall be the topic of study this year. We will continue the study of this chapter in this second part.
Overwhelmed with intense grief and confounded about his duty, Arjuna finally surrenders to Lord Krishna and requests His counsel. Lord Krishna, finding no means other than Self-Knowledge to rescue his friend and disciple from a despondent state, expounds on the nature of the Self and the nature of all beings. Lord Krishna systematically lays forth several reasons as to why Arjuna should not grieve and instructs him to stand up and fight the battle of Dharma! The core philosophies of the various systems of knowledge are expounded in this chapter.
Chapter 2 Lyrics: Sanskrit English Sanskrit & English side-by-side
Audio: Online Learning Tool
Audio Reference:
Chapter 2 Part 2 - Chanted by Swami Shantananda-Ji
Chapter 2 Part 1 - Chanted by Swami Shantananda-Ji
Instruction Videos:
Reference Documents:
Geeta Chanting Yajna Events:
Geeta Chanting Yajna 2022 Regionals competitions shall be held in the various Chinmaya centers in the TriState Area. This event is open to all. Please refer to the flyer below for verse assignment for grades and the list of participating centers.
A participant can only participate in one of the Regionals competitions. Participants are requested to register in the center where they attend Balavihar. Please select the center that is close to your residence, if you are not a Chinmaya Mission member. This year, Regionals format depends on each center. Event date and format for each center is specified below.
2022 Regionals:
CNJ Regionals:

Apr. 2, 2022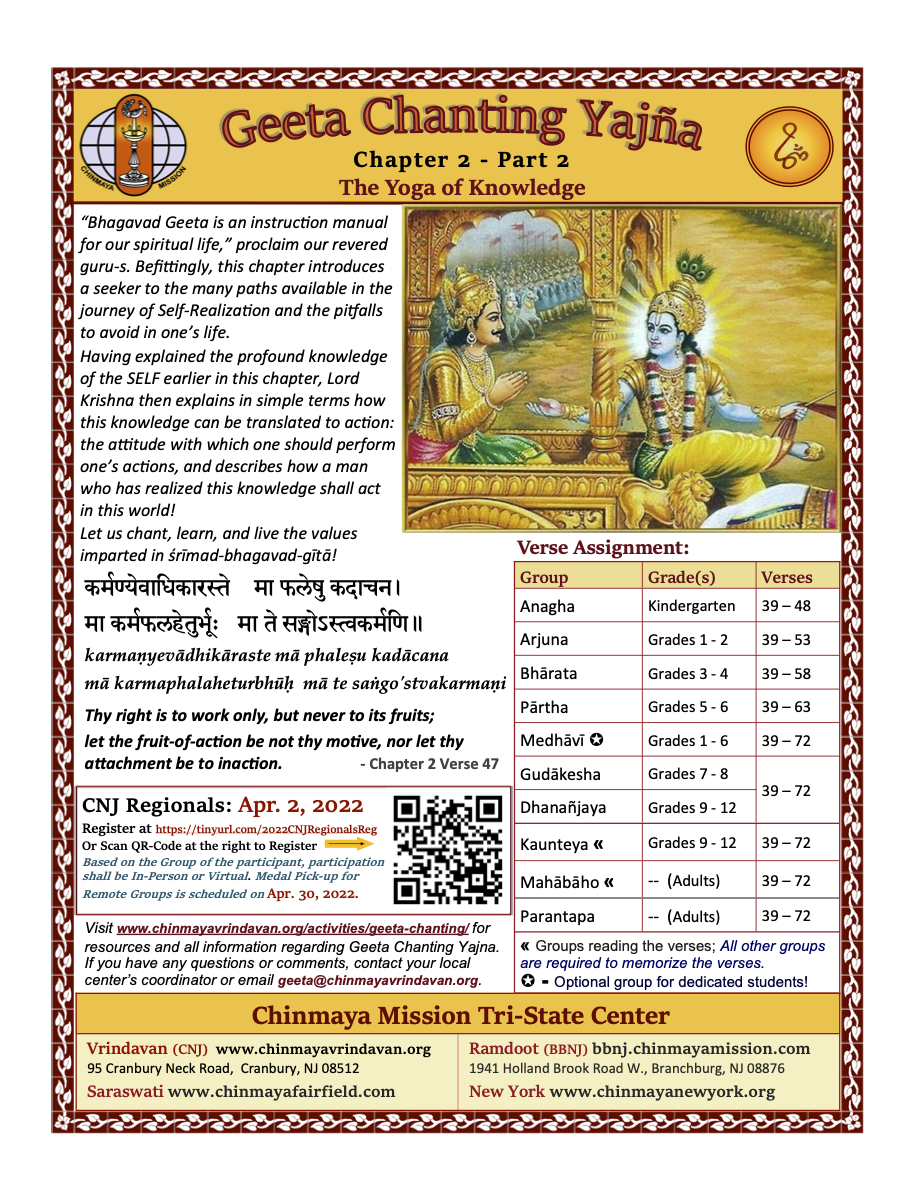 Support:
If you have any questions or comments please email This email address is being protected from spambots. You need JavaScript enabled to view it., or reach out to the Geeta Chanting Yajna Co-ordinator of the nearest Chinmaya Center.
For Nation-wide Geeta Chanting program and the list of all participating Chinmaya Centers and Co-ordinators, please visit Chinmaya Mission West.