Cultural Programs
Hindustani Vocal Concert by Apoorva Gokhale and Pallavi Joshi
Sunday June 11th, 2023 3:30 PM
Admission : $30 Premium, $25 General
CONTACT: cultural.events@chinmayavrindavan.org (mailto:cmtc.concerts@gmail.com)
Please follow the standard Covid guidelines in terms of physical distancing. Masks are highly recommended.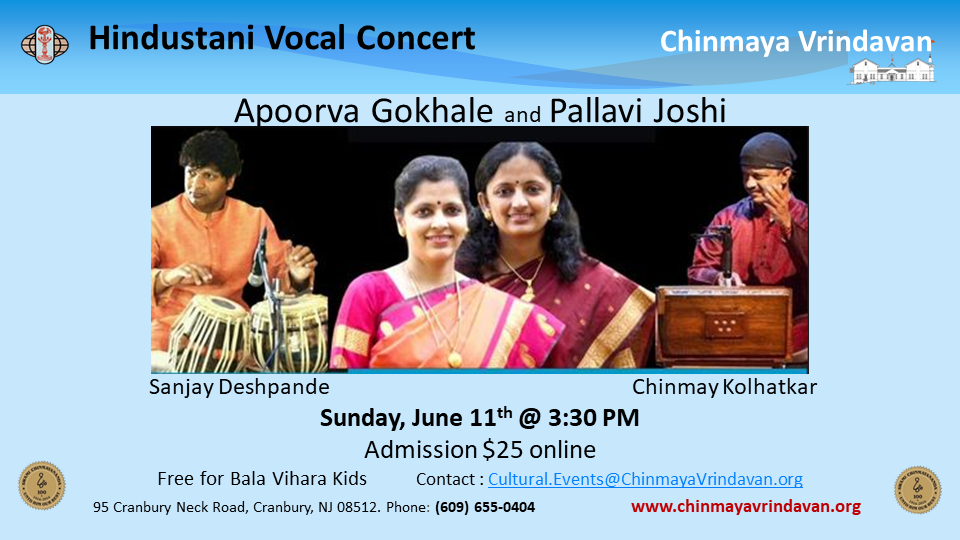 Upcoming Programs
Chinmaya Vrindavan has hosted over 130 cultural events in last five years. Events include Bharatnatyam, Kathak, Kuchipudi, Mohiniattam, Carnatic and Hindustani classical concerts and performances by renowned Flute, Violin & Saxaphone maestros etc. In addition to performance by visiting artists, We promote presentations by local artists and upcoming youngsters in tri-state area.
Chinmaya Yuva Series Events are scheduled on periodic basis to show case talents of Chinmaya Bala Vihar youth.
For further information, Please contact Cultural Event team at Cultural.Events@ChinmayaVrindavan.org .